MISSION
To provide support services to all people, their families, and friends who seek to sustain recovery from substance use disorder.
VISION
We envision a world in which people are able to seek recovery from substance use disorder free from stigma in an environment rich in support services.
GOAL
To help all who seek to recover from substance use disorder the opportunity to thrive, not just survive!
OVERVIEW
The George Phillips Jr. Recovery Community Center is a recovery-oriented sanctuary anchored in the heart of Anne Arundel County. The GPJRCC provides peer-based recovery support services using a volunteer force to deliver a vast majority of these services. The center assists anyone in their recovery journey no matter where they are in their process. Ultimately, this is a place to find workshops, training and educational sessions to enhance one's own recovery. The GPJRCC is owned and operated by Serenity Sistas, Inc. a 501(c)(3).
BIO OF GEORGE PHILLIPS JR.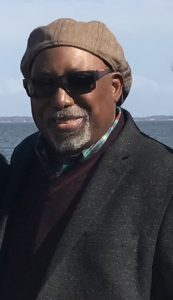 George Phillips, Jr. believed in people when they didn't believe in themselves. A true champion of recovery, he knew that recovery from substance use disorder was possible and worked tirelessly for all who suffered with addiction. He achieved worldwide success as a singer, songwriter, and musician, but helping people was his true passion.
George Phillips, Jr. was raised with his four brothers and three sisters in the Crownsville area of Anne Arundel County. His college years began at Anne Arundel Community College and he furthered his studies of Behavioral Health at Oakland University in Rochester, Michigan. He was a devoted family man who married his teenage sweetheart, Gayla, and later welcomed a son, George Phillips, III, and a daughter, Geva. George began his behavioral health counselor in the early 1980s. In the late '80s through the early '90s, George took a hiatus from his behavioral health work to pursue his love of music. He was a founding member of and lead vocalist for internationally known, gold record recording artist Starpoint.
George returned to the behavioral health field with the Anne Arundel County Department of Health in 1999. During his tenure with the Health Department, George pioneered and implemented many programs that "walked the walk" of his passion to reduce the stigma associated with substance use disorder. A part of his lasting legacy is the Recovery Oriented Systems of Care (ROSC), known today as Recovery Anne Arundel, that he started. Recovery Anne Arundel was the first organization in the County that brought together community-based, private and public organizations that worked to promote health and wellness for anyone seeking recovery from substance use disorder. George was instrumental in ensuring that Anne Arundel County has a true continuum of care. In 2014, George earned an honorary doctorate of humane letters from the New York College of Health Professionals. George's passion and commitment for serving the underrepresented and marginalized could not have been more evident than when he continued working through his failing health. George passed away on February 3, 2021, leaving behind his wife, children, and grandchildren. Given his countless contributions to the recovery community in Anne Arundel County, naming the Recovery Community Center after George is a fitting tribute.